Bellamy Lane Kitchen
North Chatham MA
Bellamy Lane, North Chatham MA
A dream kitchen actualized in North Chatham. Our client had a vision of her ideal space, and we helped her make it reality.
Overly busy materials, poor layout and cramped dark cabinetry gave way to a chef's paradise. Quietly veined quartz counters, shimmering opalescent glass tile and a custom finished oak island are beautiful elements anchored in the carefully planned, bespoke white cabinetry. The range hood was custom designed for the space, and hand-crafted with stainless steel accents. Glass knobs and polished nickel cup pulls, along with the open-air nickel pendants add just the right amount of glam, with an airy lightness for this re-imagined traditional beach house.
Every inch of cabinetry was space-planned and organized according to the client's specific needs, and incorporates custom inserts to accommodate plates, bowls, utensils. The traditional Shaker styling and bespoke trim dovetails with the house's existing Craftsman architecture. We helped her to find the perfect hardware, lights, finish materials, down to the creating several oak samples to perfect the finish for the oak island.
Interior and Cabinetry design: Av Elva Sol
Custom Cabinetry: Buck Construction, Chatham MA
General Contractor: TB Home Improvement, Chatham MA
Trotting Park Road
West Dennis MA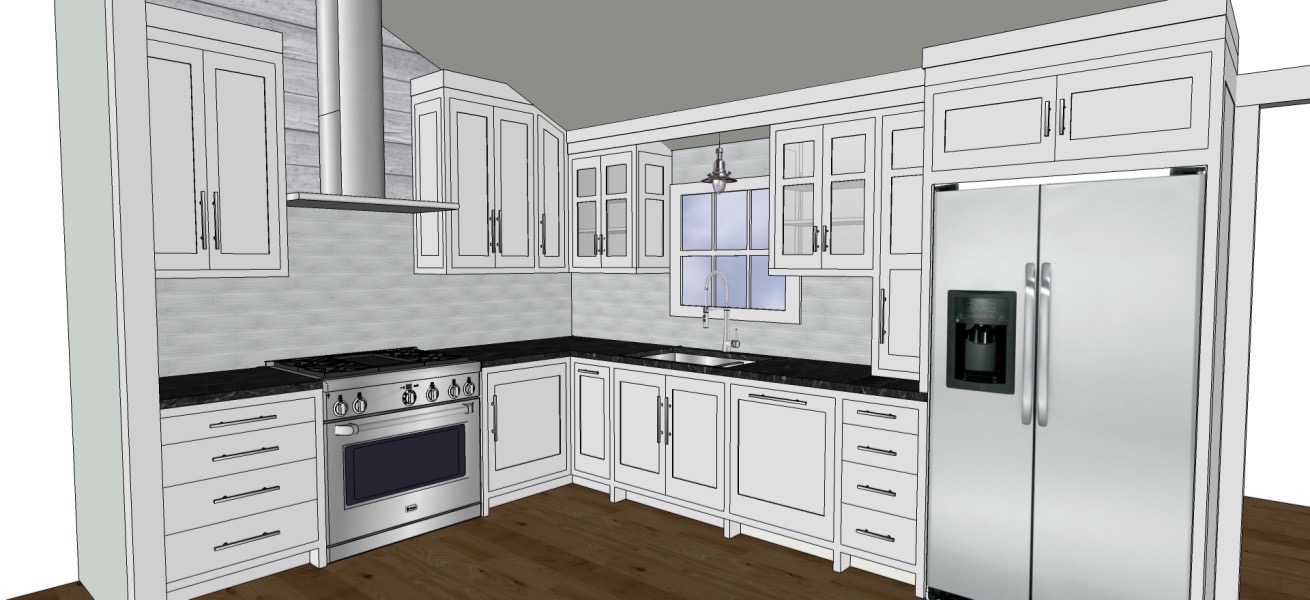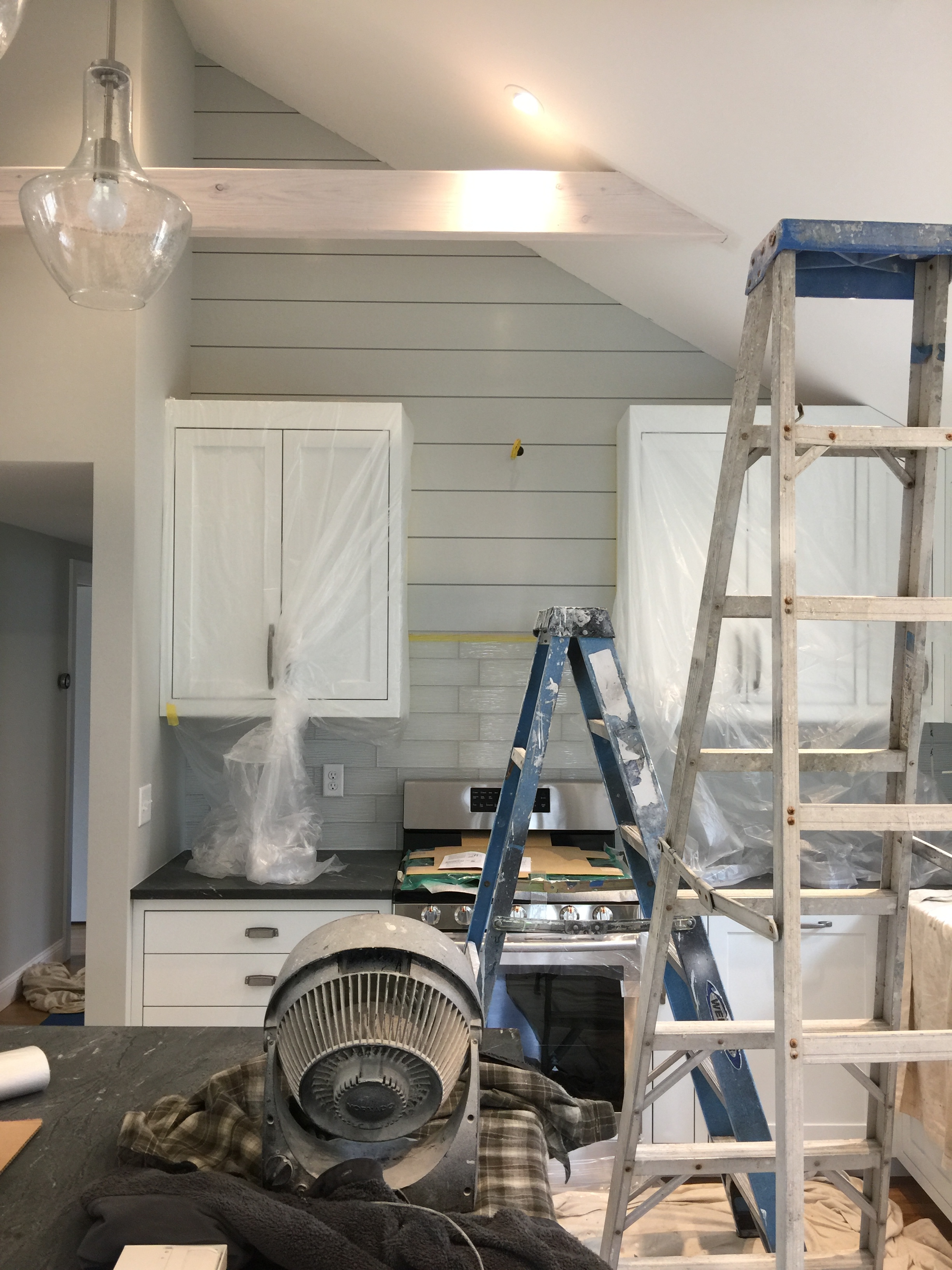 Trotting Park Road, Dennis MA
We were honored to have our design work featured on the cover of At Home.
This was quite a fun job, as the homeowners were so open to the original designs we created especially for them. This house is not only their beach retreat, but will be their forever home. It was important to create an ageless, fresh and livable space.
The broken up floor plan with rather strange trimmed openings was opened up; the ceilings were vaulted and finished with new beams and white-washed tongue & groove. The old wood-burning fireplace was stripped down and updated with an easy-to-use gas fireplace, finished in slate, soapstone, and hand-selected barnwood shiplap, along with an antique beam mantel and jambs.
Traditional elements like soapstone counters, Shaker cabinetry and shiplap paneling ground the space, while the textured glass tile literally glows and glimmers with movement. The same wave texture is hand-rendered in wood on the mitered shiplap island. The tile and wall color are nearly seamless, making for a quiet, composed atmosphere. Substantial pewter hardware is comfortable in hand and along with the glass pendants and chandelier, are properly scaled to the high ceilings and open space.
The Capiz chandelier defining the dining area is a playful touch, and for this designer, a real moment. I offer different visions to the client, first building a SketchUp model to accurately understand the scale of the space, creating options for the lay-out, to figure out what works best for the client. Then I introduce possible finish materials and products to complete the picture. Sometimes, I find something that really speaks to me, but may be a "wild-card" idea. Happily, the clients loved this beautiful Capiz chandelier, finding it rather romantic, to my utter delight. With the windows open for the sea breeze, it gently moves, the quietest of chimes, the subtlest iridescence.
The kitchen is equipped with customized touches, like the counter-height cabinet with electrical outlet and pull-out shelf to accommodate their daily-used Vitamix. They use a microwave only for heating tea, so we found a charmingly cute machine, and stashed it out of the way, in the island. The blind corner is fitted with a Magic Corner, so no space is inaccessible. All the cabinetry is custom built, and fitted with heavy-duty soft-close hardware, pull-out drawers, and under-cabinet & in-cabinet lighting. The stainless steel chimney meets the ceiling with specially crafted trim, backed by shiplap paneling to mirror the fireplace chimney.
In addition to the kitchen and living room design, we provided designs for the totally remodeled bathroom. Custom cabinetry was installed along with a new tiled shower, new floor, new double sinks/faucets, new lighting/electrical. The marble counters, bright wave-textured tile and fresh white cabinetry carries through the quiet atmosphere, making for a restful, timeless space.
Cabinetry and Interior Design: Av Elva Sol
General Contractor: Buck Construction
Cabinet-maker: Buck Construction
Architecture: SV Design
26347 Isabella Ave
Carmel, California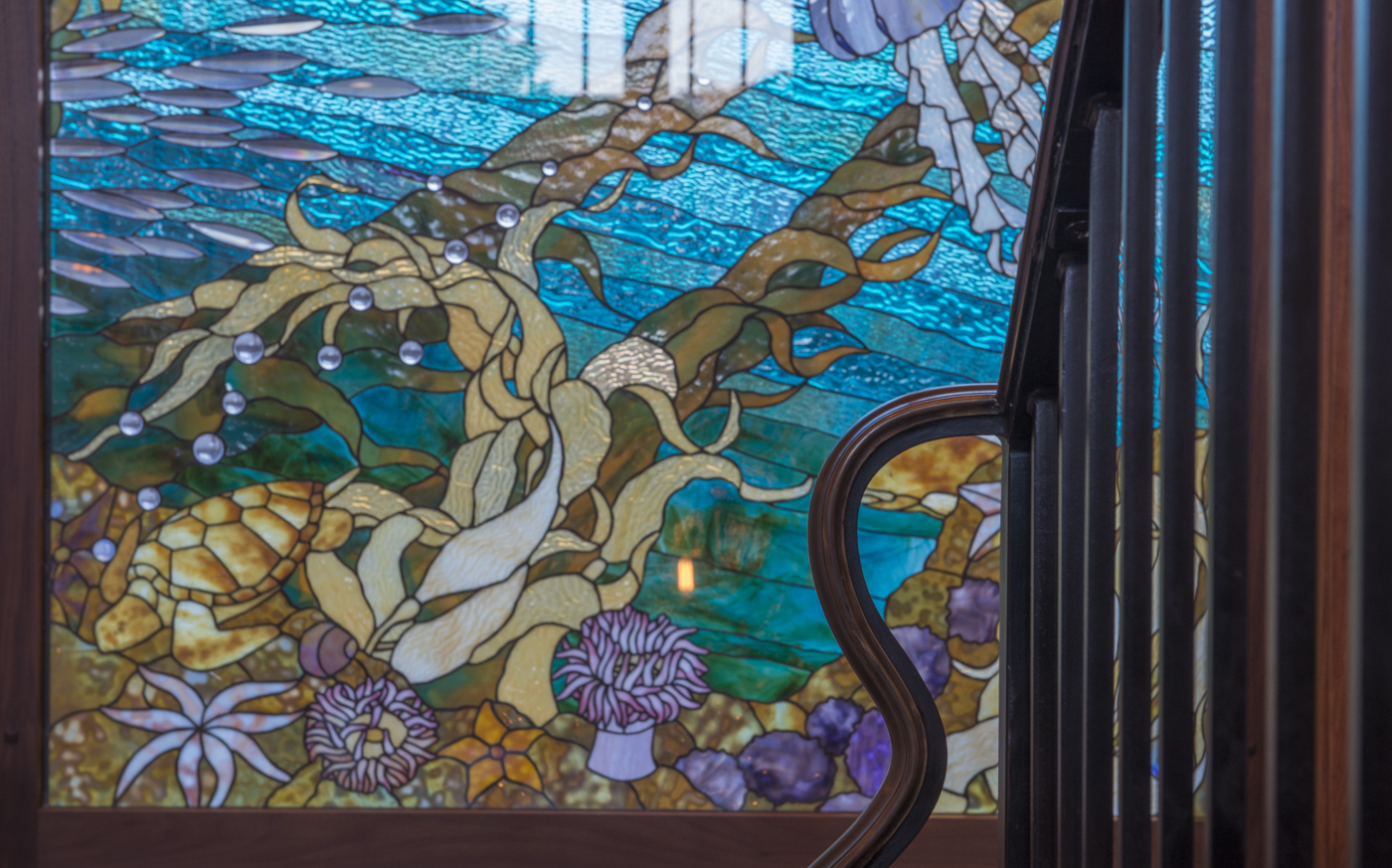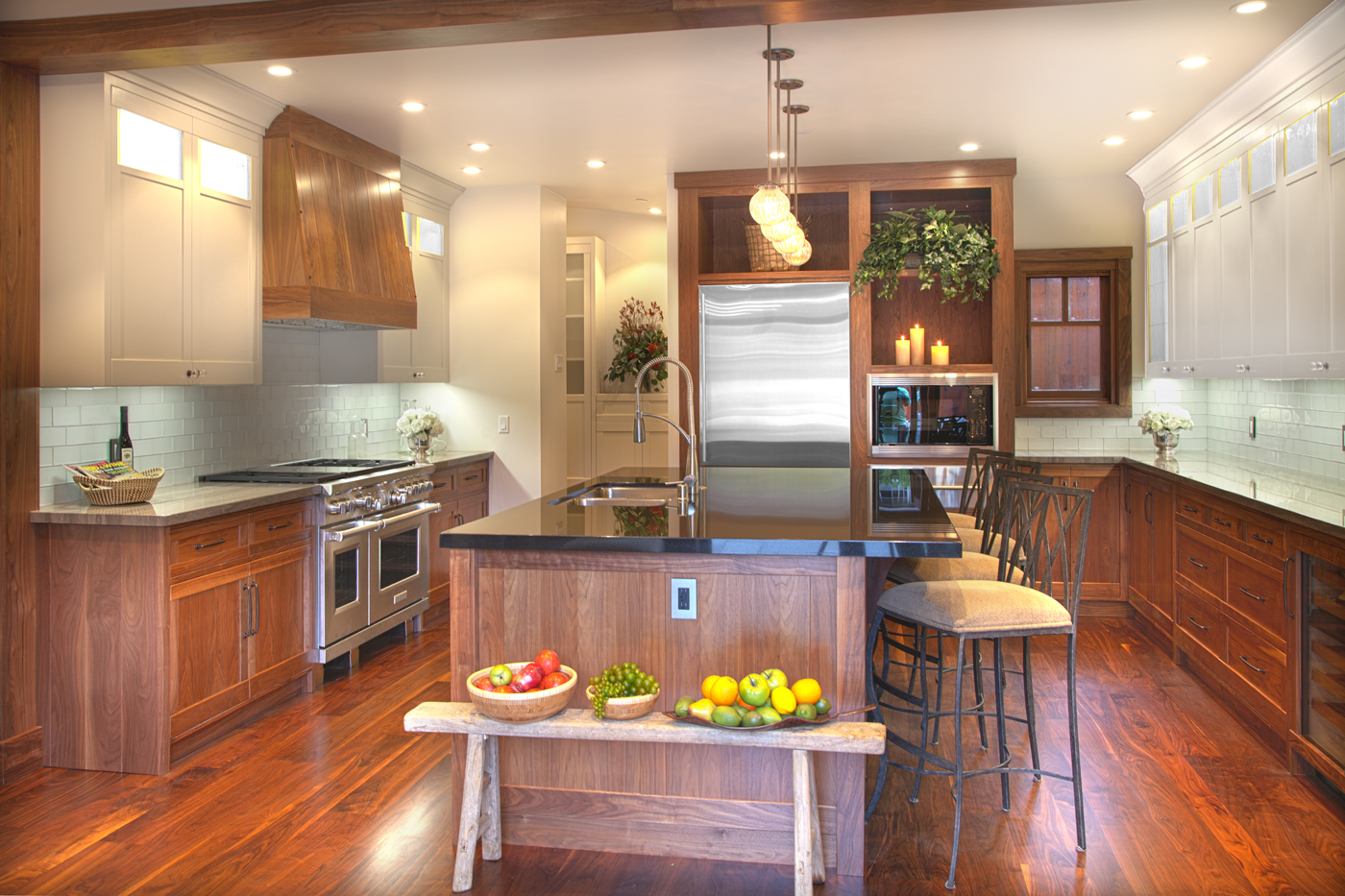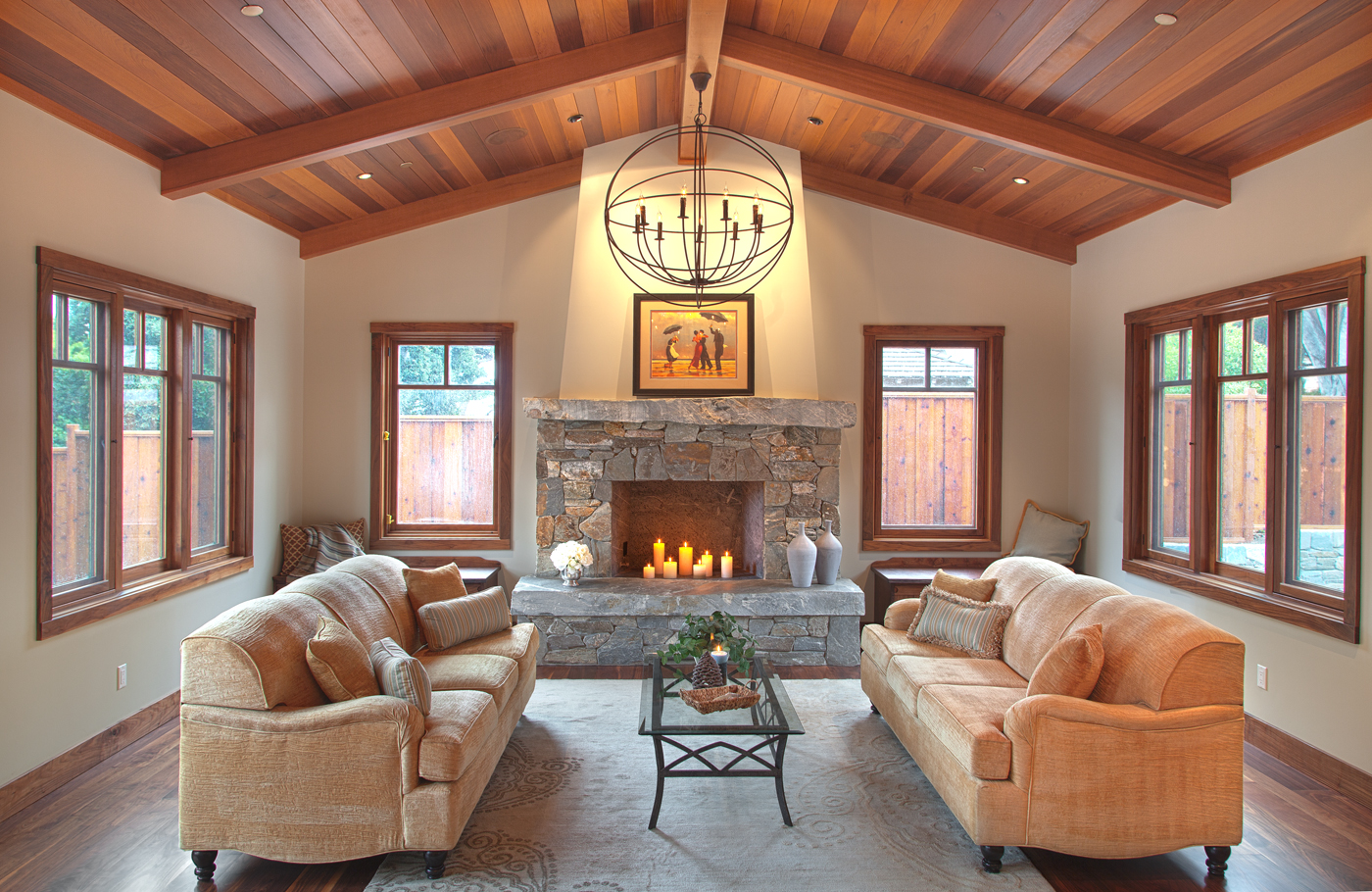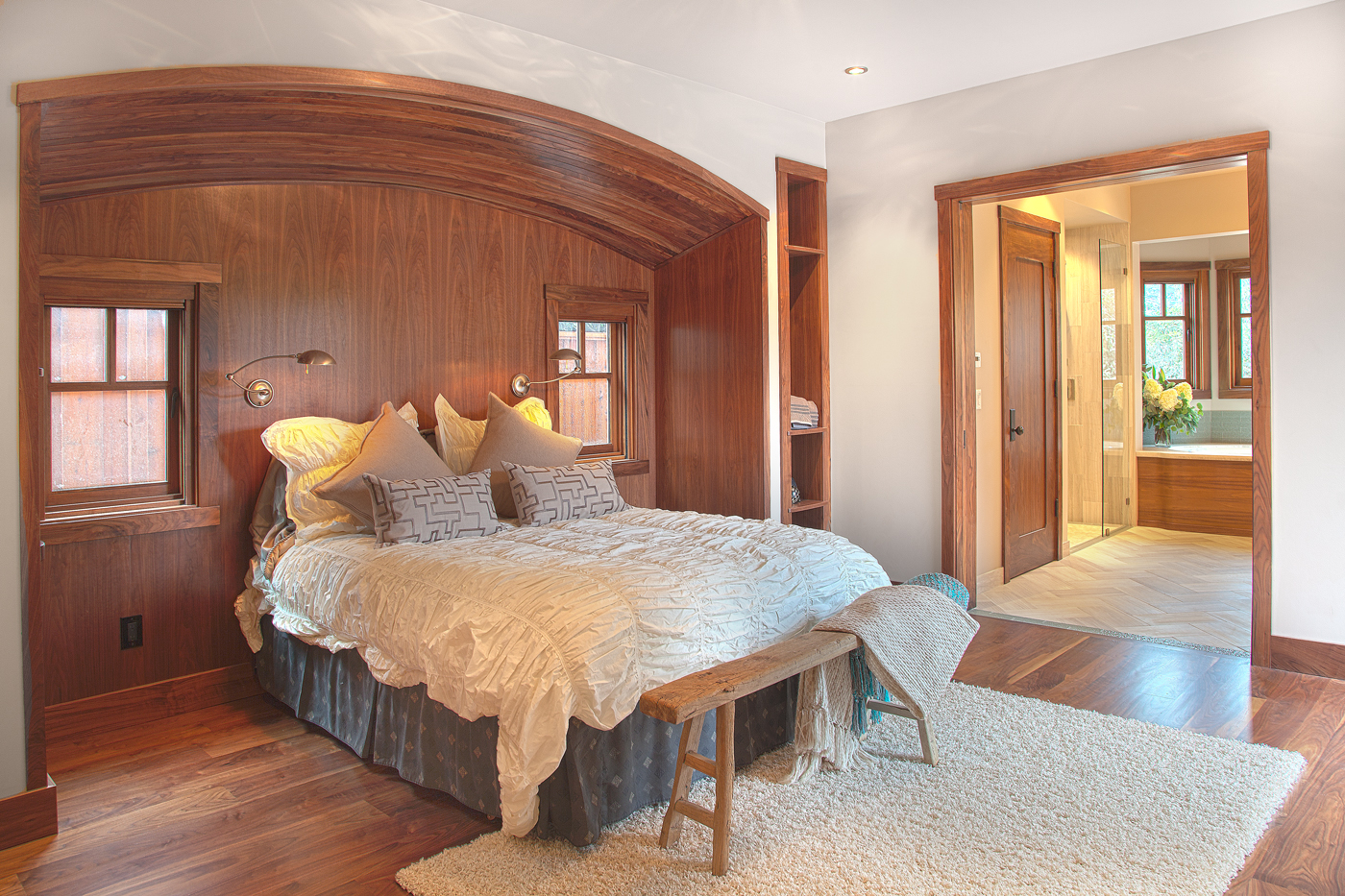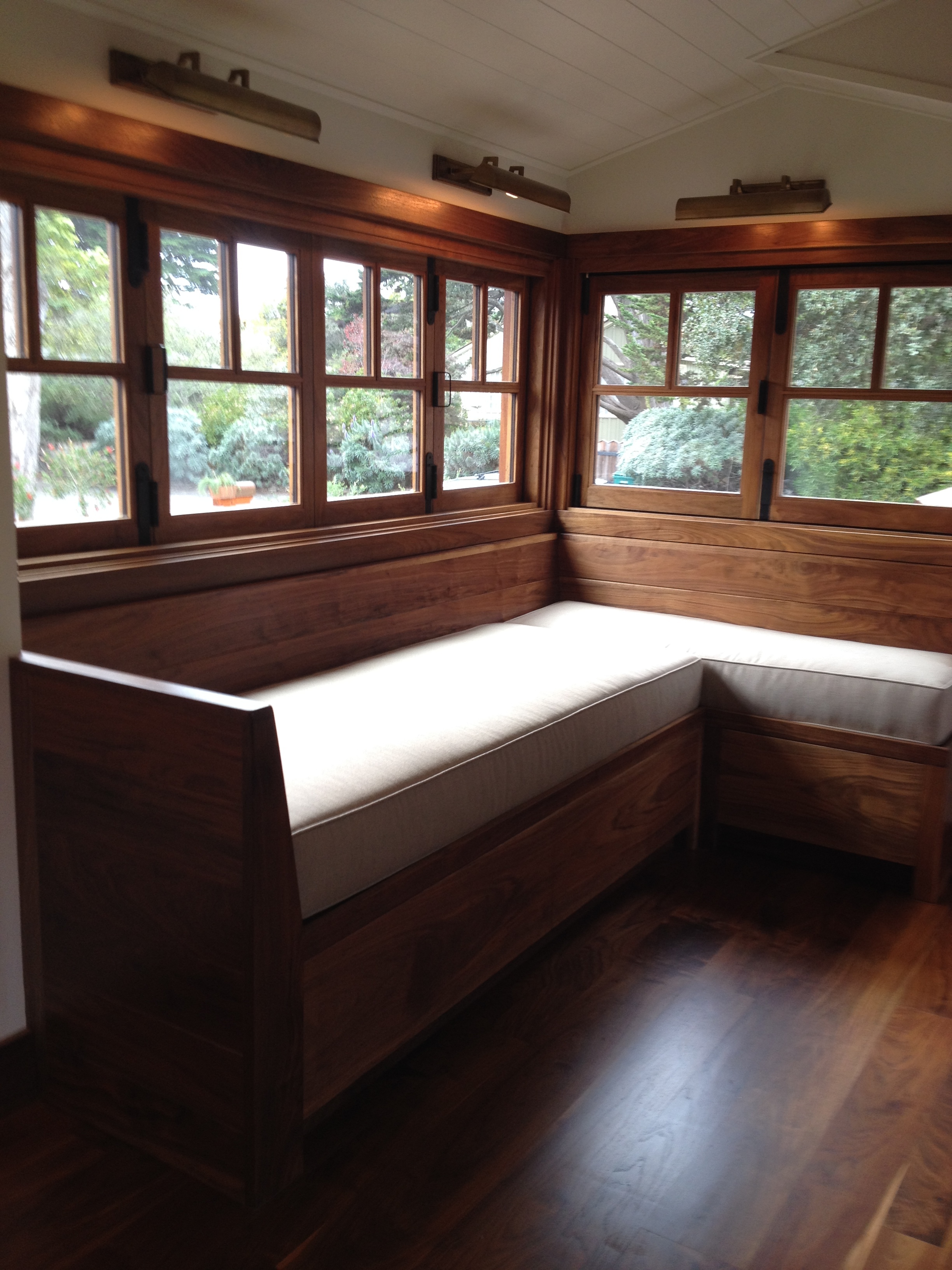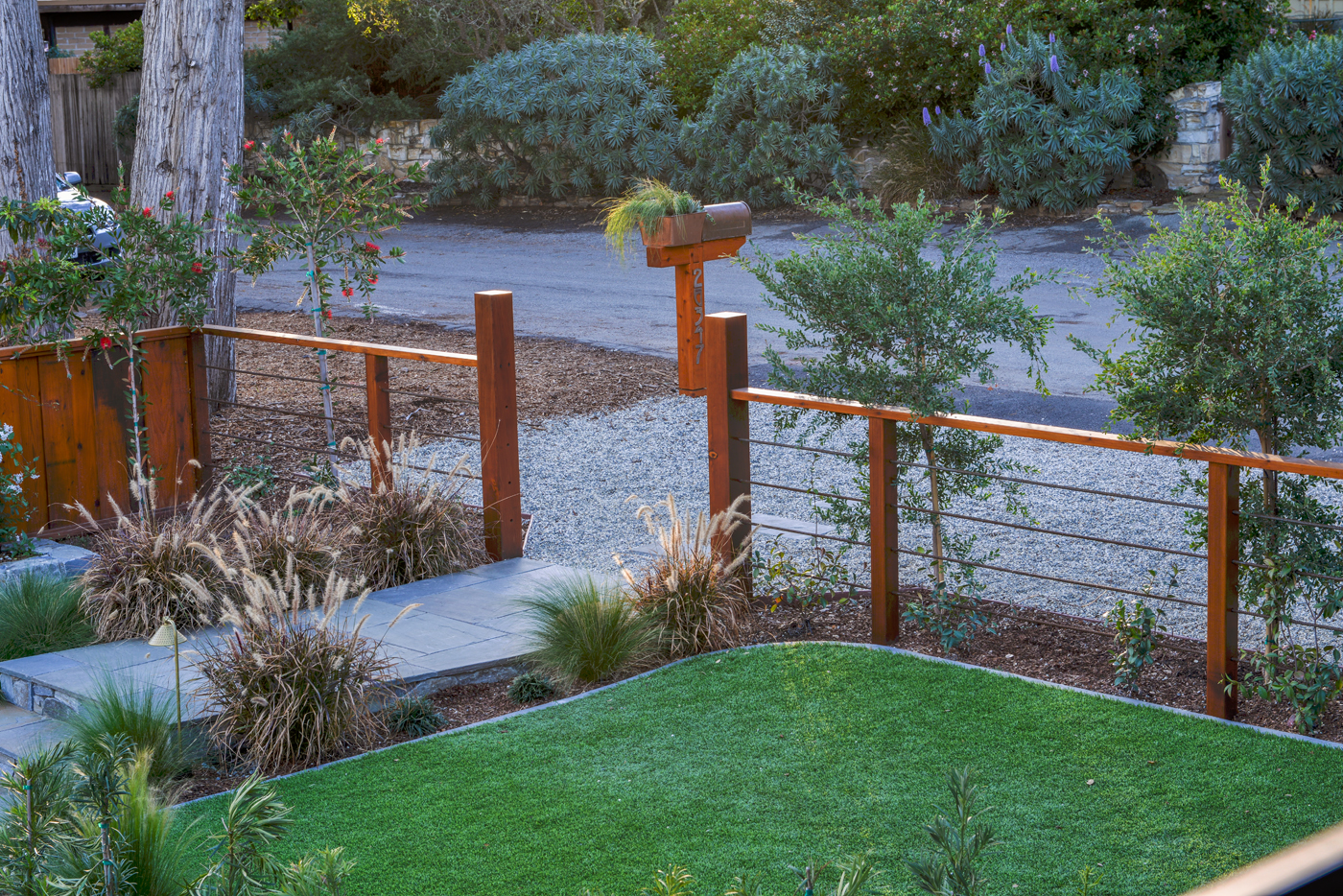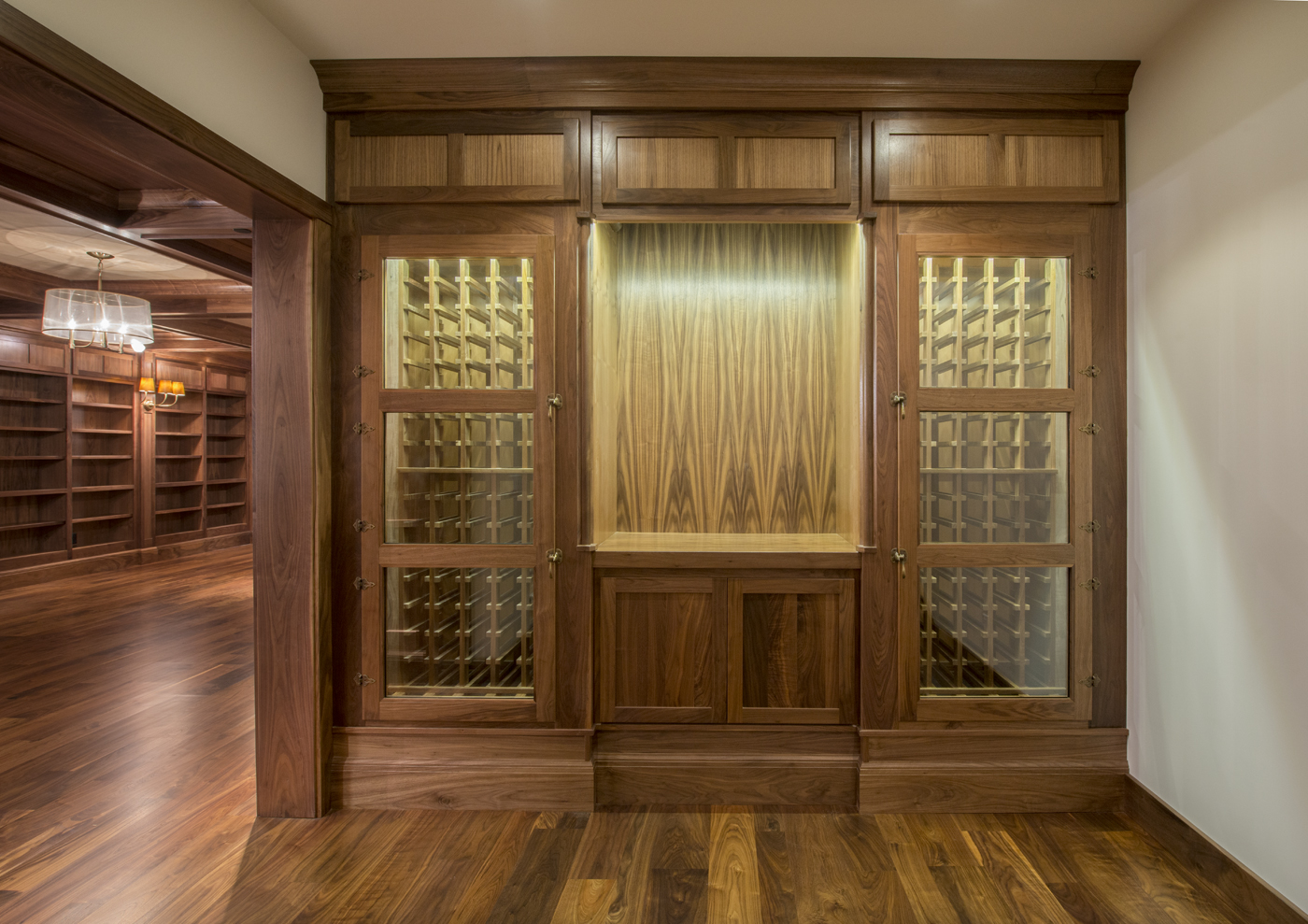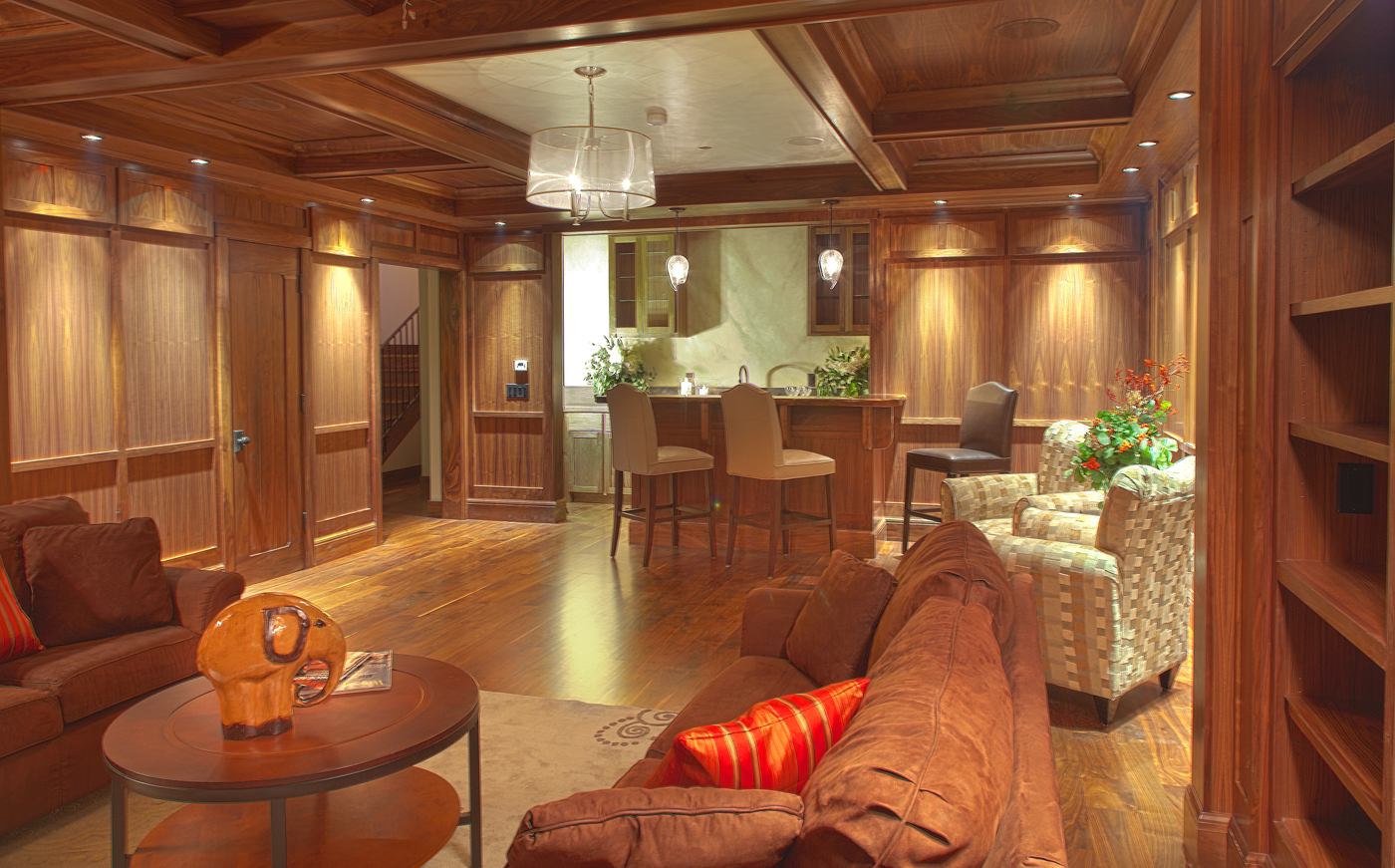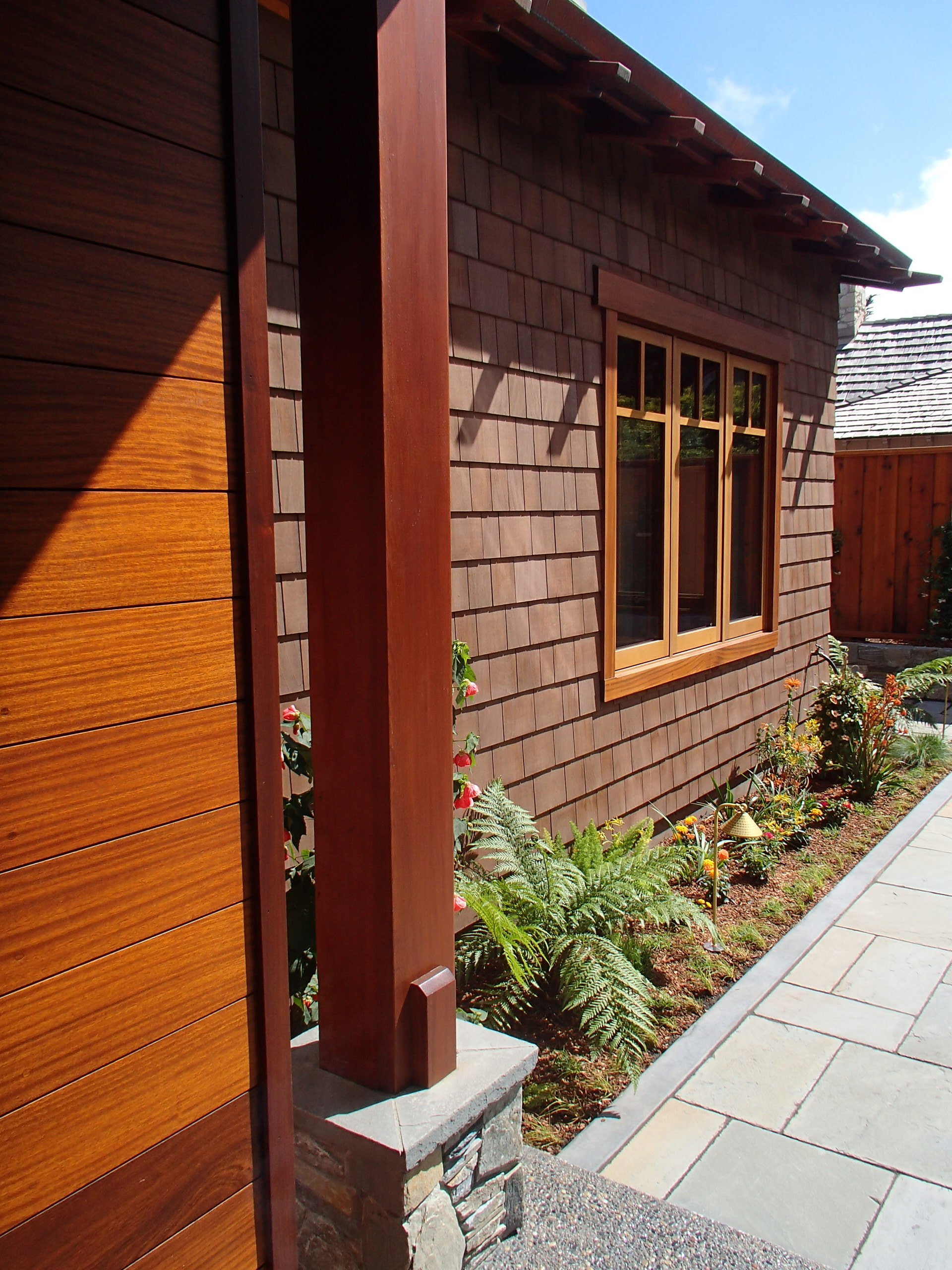 26347 Isabella Avenue, Carmel California
A custom Craftsman design, this beach house was extensively remodeled to suit modern California "indoor-outdoor living". Fusing clean lines with traditional joinery details, employing quiet natural tones in the colors and materials, the home is at once individual and familiar.
Throughout the house, natural walnut floors and trim establish a warm genuine vibe. Walnut interior / Sapele exterior windows & doors continue the austere theme. Simple yet substantial proportions of the wood trim-work and cabinetry keeps the visual interest in the beauty of the wood itself, and the framed nature beyond. Whimsical light fixtures and glass tile amplify & play with the natural light, while the doors, interior, exterior & cabinet, were custom designed for the house, each with appropriate glass to balance privacy and light.
The bespoke blueschist slab fireplace references the local geological history of Big Sur, California; its soapstone interior another nod to traditional, practical construction techniques. Natural stone countertops were individually selected to create a sophisticated coastal palette: the gentle organic grays provide flexibility in decor so the house can be dressed as formally or casually as desired.
Inspiration came from Carmel, its setting, history and original architecture. The site was comprehensively studied for possible view-sheds, learning the character of the natural light, the comfortable orientation of a space to maximize its view and privacy. The landscape was walked and talked and observed from indoors and out. The resultant pathways and stairs have a rhythm to the step; congregating areas are constructed to a living scale to best represent the user.
The copper-work, rebar fencing, zinc planters, antique brass light fixtures together develop valuable character as the metals patina in the coastal elements. The singular micro-climate of Carmel Point enabled the selection of utterly unique, drought-resistant native & exotic plants. Vivid splashes of color and vibrant greenery pop off the natural wood tones of the house, a garden designed to mature into a jungle of breezy grasses, fragrant citrus and peculiar flowers inviting closer examination and appreciation of the Carmel atmosphere.
Av Elva Sol would like to recognize the artisans who actualized the designs for the Isabella House:
General Contractor: Buck Construction, Chatham MA
Architecture: Holdren+Lietzke Architecture, Monterey CA
Cabinetry: Ambrose Pollock Fine Cabinets & Furniture, Carmel Valley CA
Cellar Cabinetry: Pat Plautz, Minnesota Valley Cabinets, Savage MN
Copper-work: Rainman Heating & Sheetmetal, Monterey CA
Counters & Tile: Ozzy Tile, Salinas CA
Handrails: Sculptureworks, Sand City CA
Hardscape: Monterey Bay Builders Inc., Carmel Valley CA
Landscape: Inca Landscape Management, Carmel CA
Masonry: Kurt Cook Masonry, Aptos CA
Realty: Marla Rea of Alain Pinel, Carmel-by-the-Sea CA
Staged Art/Furniture: Carmel Home Staging, Carmel CA
Stained Glass: John Forbes, Bonny Doon Art Glass, Santa Cruz CA
Briggs Way Bench
North Chatham MA
Briggs Way Entry Bench, North Chatham MA
A single slab of American Elm is transformed into an elegant entryway bench using traditional joinery techniques. White oak slatted shelves are sized to the family's house slippers, and the piece bleached and finished to match the existing oak and shell inlay mirror.
Bench built by Buck Construction, Chatham MA.
Hayes Wet Bar, Eastham MA
A kitchen pantry closet was transformed into a one-of-a-kind, artisan-made wet bar, built by Buck Construction [ www.buckconstructionco.com ]. An under-counter beverage refrigerator is totally, completely concealed in the book-matched walnut cabinetry. Av Elva Sol offered the homeowner appropriate, beautiful, considerate options for the necessary hard surfaces & fixtures [countertop, backsplash, cabinet glass, cabinet hardware, sink] required of their remodeling project, to achieve a harmonious, luxurious, whimsical design. The homeowners' chose genuine antique chicken-wire glass to complement their collected travels' antique pieces. Inspired by their eclectic Cape Cod beach theme, Av Elva Sol selected hand-made Ann Sacks aqua-glazed ceramic Mousharabia tiles which anchored the bar to the existing home decor. The unique hexagonal copper sink tied in with the shape of the tile & the wire pattern of the reclaimed glass. A honed, coarse-grained & subtly veined black granite remnant was procured to finish the counter, with its enriching texture coordinating with the existing honed absolute black granite kitchen surfaces.
Isabella Front Gate
Carmel, California
Isabella Front Gate, Carmel California
Av Elva Sol was commissioned to design a front gate for the Isabella House. Continuing the minimalist design of the rebar fence, and incorporating the sapele mahogany and joinery details existing on the house, we designed a gate with saloon-style swinging doors to reference the house's Western setting. The continued rebar keeps the landscape open, and the focus on the details of the house. A hand-wrought bronze drop-bar gate latch was chosen to coordinate with the existing house hardware, and will patina blue-green along with the house's copper work. Mortised, concealed Soss hinges minimize the reveal between gate and post. Though the design appears simple, the genuine mortise & tenon construction details echo the theme of the house, drawing the user closer to appreciate the artisan craftsmanship and simple beauty of natural wood.
Dishwasher Island
3200 Humboldt Ave
Minneapolis Minnesota
Av Elva Sol helped solve a functional issue in a century old house in Minneapolis Minnesota, designing a simple island to house a much-needed dishwasher as well as create a true work triangle in an antique kitchen.
Reed-Lee Nursery
Sunnyvale California
A space originally used as bachelor storage underwent a weekend conversion for the expectant parents of a baby girl, designed to be compatible with both mother's and father's taste. Painting the ceiling and walls soft aqua tones & adding jute drapery transmuted intense southwestern sunlight. A wall-sized map anchored the room and allowed for transition from nursery to youth. Custom-framed antique Disney cartoons added instant character and all objects were arranged for maximum function and comfort.
Beach House Guest Quarters
Monterey California
A Monterey beach house expected its first out-of-town guests. Av Elva Sol was commissioned to transform an unused bed & bath into a welcoming guest suite. Under budget and on time for their guests' arrival, new bed & bath linens, lighting, art & accessories were procured and installed. Reclaimed antique wood side tables, stainless steel catch-alls and sea-grass lamps accentuated the existing rustic/modern/beach vibe.
Stage Island Powder
North Chatham MA
Stage Island Powder Bath
In-process remodel of a powder bath in a Stage Island home. A shiplap nook painted a dramatic royal blue houses a floating walnut vanity, with a quartz counter and glass sink. Antique brass mirror, faucet and pendant lights float on the dark rich backdrop. Finished photos coming soon!
This is our second project for the house. Watch the video below for a tour of the custom-made corner media console!